Human Resource Management
Managing of employee data
All employee data at a glance
With our solution for an effektive personnel management, you find all data of an employee in a clear surface. All important informations such as salary data, contact data, personnel master data, cost centers, qualifications, etc. are available centrally in one place and can be called up quickly at any time.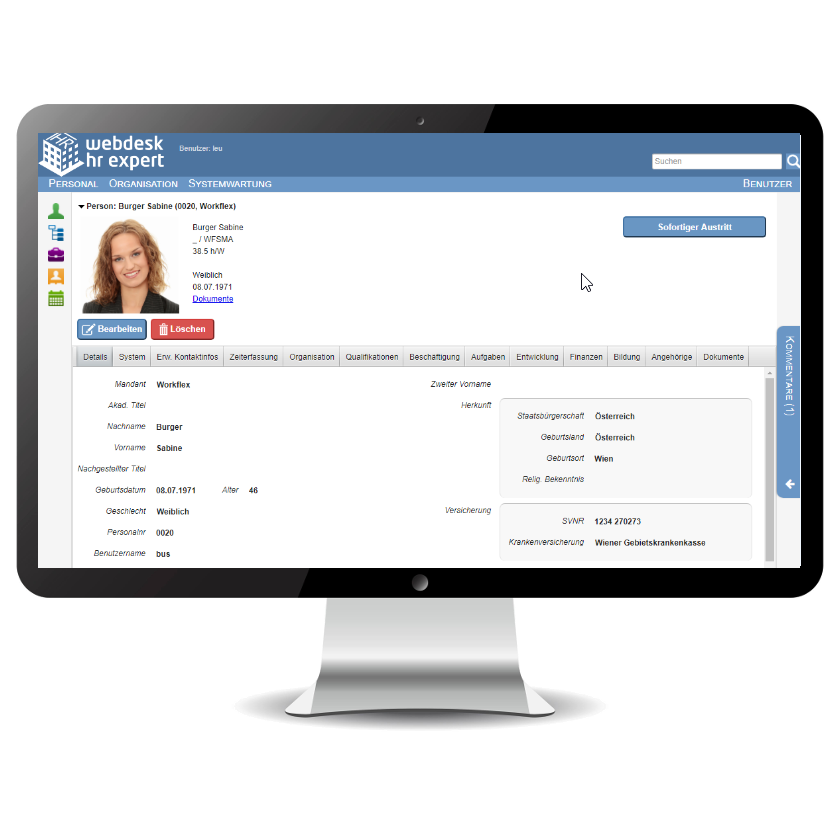 The basis for personnel management
Every functioning Personnel Administration requires a basis. In the case of HR, this is the person and organizational master data. With the flexible solution of Workflow, the employee or the organizational object (team, department, position) is in focus and all "related" data is a maximum of 2 clicks away.
No more isolated solutions necessary, since all informations are to be administered there, where one expects them as a personaler!
Functions at a glance
Personnel master data
Organization master data
Teams, departments, cost centers, areas
Positions, jobs and job families
Employment relationships
Salary and tax benefits
Education and training
Skills & Competencies
Qualifications and Certificates
Appraisal interviews
Paperwork
Managing of employee data
Our personnel management solution is the universal tool for efficient administration of your employee data. You can define job profiles, manage employees' qualifications and tasks, map a job index and the organizational chart of a company and plan or document the training and further education of employees.
Flexible yet simple
A good software is characterized by the fact that the user needs little or no training. Workflow's solution is easy to use and flexible. Are the standard fields for the documentation of personal information not enough? No problem with freely configurable additional fields and the possibility to completely adapt the mask layout, the software adapts to the needs of the company and not vice versa!